Resource sharing, networks,advice and advocacy
Theatre Network NSW was established to connect services and support to the diverse NSW theatre sector. Here are some of the services and support options that we get approached for most regularly but we are more than happy to hear from you about your own particular needs or ideas. 
Auspice Services
Theatre Network NSW provides auspice services so that independents can apply for funding, projects and other opportunities that they might not otherwise be able to access. Please look through the FAQs and get in touch.
Resource Sharing
Got sets, props, costumes, furniture, office equipment or other things you need or need to get rid of? Check out TNN's Share, Swap 'n' Sell page to post what you have or find what you need. We are also often asked to share information on development or employment opportunities. Sign up to our free E-News or check in with our news blog and social media to stay connected.
Looking for data or case studies to support your proposal or funding application? Need a decent how-to guide? TNN partners with a range of other peers and stakeholders to collect and disseminate research and resources that you can use. The theatre industry specialises in story telling but sometimes we need better research or examples to tell our own stories that little bit better or to build capacity and engagement in our community. You can view a selection of our library online at R&D Resources or contact TNN directly to access a research reports, templates, policies, and procedures that our theatre sector uses every day or just once in a while.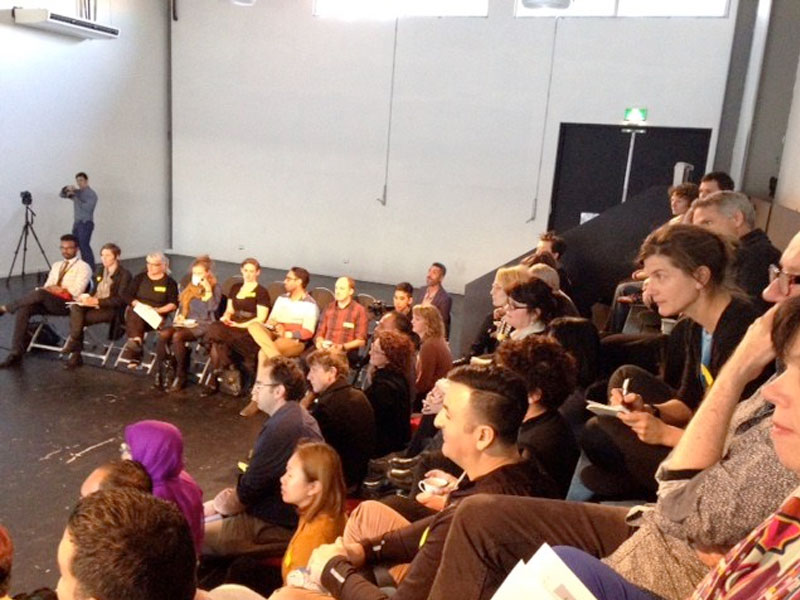 Funding, Partnerships and Development Advice
Our advice is free and only a quick call or email away – our networks save you precious time and energy.
TNN can assist with advice on funding, partnerships, insurance and business support, career or organisational development and much more. Often it is as simple as putting you in touch with the right person for your needs at the right time. Sometimes it might be the first step in a longer partnership or project.
Advocacy
Theatre Network NSW advocacy promotes the inherent value and strengths of theatre to our society while being mindful of the diversity of needs and opportunities that benefit from a collective voice. We work closely with our sector and with the broader arts and cultural sector to ensure that this collective voice resonates in a relevant way with our community. We look to a future where theatre is accessible to and engaged with by all Australians.  
Our advocacy takes many forms including meetings, working groups, workshops, submissions and campaigns. Have a browse through our website to see some of these examples.
News and Networks
Monthly E-News (TNN News) and other sector alerts or invitations direct to your inbox. 
Five on Friday (Five on Friday Example) research surveys are a quick and effective tool TNN uses to gauge opinions and build important industry data.
You can stay engaged by following, sharing, or commenting on our Facebook & Twitter.
Events
Facilitating forums and meetings or participating in sector gatherings is also an important way to maintain engagement with stakeholders, consult with peers and community, and raise discussion and opportunities around emerging themes.  In our busy sector, TNN knows that we need multiple ways to stay in touch, overcome burnout or isolation, and generate excitement and strength. TNN hosts both formal and informal events across the year. For more information on these go to TNN Events.
Many of these events are developed in partnership with peers and stakeholders. If you have a suggestion please get in touch.