Sam Cosentino, Producer/Director/Writer, wrote a short article for Theatre Network NSW on developing his company 'Walk Now Productions' and its upcoming show 'My Carer'.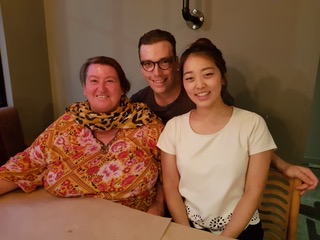 By sharing some of Walk Now's story TNN hopes it will provide ideas and inspiration for others working hard in the independent theatre sector of Australia.
'My Carer' is a deeply personal project 10 years in the making and has included a lot of professional mentoring and collaborative review processes. It is has been perseverance and relationship building that has got the company and this production to this stage.

I started a film & theatre Indie, Co-Op Community Group 'Walk Now Productions' quite a few years ago.  Since then there has been a lot of knocking on doors, looking for support and sponsorship, re-writing scripts, and working with dramaturgs and other industry collaborators.  'Walk Now' are about to put on our very first independent production/play in January 2018 at The Hellenic Art Theatre in Marrickville. Thanks to Stavros and Evelyn there for allowing us to rehearse and perform at their theatre space.

Finding and then securing a temporary production home for Walk Now Productions has been hard work but ultimately was successful because the venue understands our commitment to community and to the issues of mental health. Our play My Carer, hopes to embrace and also challenge certain mental health themes and issues that are real and out there amongst many of us in everyday life (sometimes without been noticed or understood).

It has been a challenging, satisfying and taunting experience for me, up to now. And bringing on board crew and actors has been a focal point for me recently. Theatre Network NSW's support from day one has been amazing, continuous and without any reservations at all. I am a proud and current Associate Member of Theatre Network NSW. Despite my and my partner Jenny Ward's strong industry and community connections (Jenny is one of the longest serving members of the MEAA, has been on the NSW branch committee, and is about to be inducted in an honorary role), having support and recommendations from organisations like Theatre Network NSW and MEAA has been fundamental. MEAA has a good cooperative agreement that we worked to and made our own. It was important to me to get the best working conditions I could for my actors and crew to be part of our Indie, Co-Op & Community Group – Walk Now Productions. TNN helped connect me to other actors, directors, venues, and theatre companies and has acted as a sounding board for my practice and production plans.

Our philosophy at Walk Now Productions is based around embracing diversity in the community, including multiculturalism, being open minded & respectful towards our colleagues out there at ground level.  Approaching and talking with different people in our arts community (especially those that are on the fringe or marginalised in society).  Talking to people about interesting and unusual story's, theatre, film and relevant arts, all at ground community level.
To get in touch with Sam or Walk Now productions visit https://www.facebook.com/walknowproductions/