Is this for you? Sydney Theatre Company in collaboration with Asian Australian Arts Company Performance 4a, have an exciting opportunity available for a Producer from an Asian Australian background.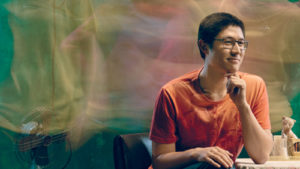 The role, based at Sydney Theatre Company's home the Wharf, would involve working part time (approximately 2 days per week) for 6 months with STC's Artistic Team as an intern on a variety of projects across the Company with particular focus on STC's production of Disapol Savetsila's Australian Graffiti in June and July 2017.
HOURS OF WORK
Approximately 2 days a week (flexible to individual) for a 6 month period from February – July 2017.
The usual hours of work are 9am-5pm (with 1 hour for lunch). However, the role requires a degree of flexibility, and may include some evening or weekend hours. There is also some room within the role to tailor some hours to suit an individual's circumstances.
Salary of $10,000 for 6 month period + 10.5% superannuation.
Complimentary tickets to STC productions subject to availability
The position is based at The Wharf, Sydney Theatre Company, Pier 4 Hickson Road, Walsh Bay.
APPLICATION
In order to make your application for this role, please submit your resume and cover letter briefly explaining why you are applying for this role and demonstrating how your skills and experience are applicable to this role as outlined in the job description. Please state your cultural background in your cover letter.
Applications should be addressed to: artisticteam@sydneytheatre.com.au
Closing date for applications is COB Friday 4th November.
JOB DESCRIPTION
Position Title: Producing Intern
Reports to: Director of Programming and Artistic Operations
Other Positions in Artistic Department: Artistic Director, Director of Programming and Artistic Operations, Senior Producer, Associate Producer, Casting Director, Literary Manager, Company Manager, Artistic Administrator, Casting Coordinator, Resident Director.
Role Overview
The role
Assisting the Associate Producer as needed with producing aspects relating to the production Australian Graffiti including coordinating meetings, working with budgets, artist travel, attending design meetings, attending first previews, opening and closing nights.
Participating in a programme of activity designed by the company to include attending performances, attending some production meetings, meeting and working with different departments, reading scripts, attending some rehearsals and company functions.
Assisting with producing, administration and company management tasks as required. For example, arranging workshops, database management, drafting contracts, booking artist travel and arranging functions.
Other duties as required to support the work of the Artistic Team.
Skills and Experience
Some previous experience of theatrical producing and arts administration.
Knowledge of theatrical practice and the performing Arts in Australia and internationally
Ability to multi skill; to manage workloads, schedules and multiple stakeholders
Positive interpersonal skills and the ability to successfully interact with professional associates, creative personnel and staff.
Understanding of the technical aspects of theatrical production.
Some experience in creating and managing theatrical budgets desirable.
Good computer skills; including Microsoft Office Suite, systems and email.
WORKPLACE HEALTH AND SAFETY
For the purposes of the Workplace Health and Safety Act and Regulations the Producing Intern must ensure that she/he:
Takes reasonable care of the health and safety of themselves and others.
Works in a safe manner and follows procedures introduced for his protection.
Participates in any training or education necessary to enable him to work safely including familiarisation with the STC's WH&S Policy.
Reports any unsafe work practices or conditions to his supervisors
Cooperates with Sydney Theatre Company in their efforts to comply with workplace health and safety requirements. 
ENVIRONMENTAL SUSTAINABILTY
To support the Company's vision of becoming the world's most sustainable theatre company, the Producing Intern must ensure that she/he:
Takes reasonable steps towards minimising the environmental impact of their role and that of the Company;
Works in an environmentally responsible manner and follows procedures introduced to this end;
Participates in any training or education necessary to enable them to work sustainably including familiarisation with the Company's various green policies;
Brings to the attention of the internal Green Team any situations or practices that could be improved in relation to environmental performance; and
Co-operates with Sydney Theatre Company in their efforts to lead in the area of environmental sustainability.
This project has been assisted by the Australian Government through the Australia Council for the Arts, its arts funding and advisory body.