Sancha Donald, Accessible Arts NSW's long-standing CEO, will step down at the end of this month.
Sancha has provided distinguished service to Accessible Arts as CEO for the past for 12 years. The list of her achievements across that period is extensive. She has been a tireless advocate for artists with a disability, particularly in relation to supporting such artists to achieve excellence in their practice, and for their work to reach the widest possible audience. Sancha's impact has been local, regional, national and international. Through her advocacy, innovative funding models have emerged, including the recently implemented $30,000 NSW Artist with Disability Fellowship. Sancha instigated the biennial national arts and disability conference, Arts Activated, which has been presented by Accessible Arts five times with greater impact at each iteration, and the Arts and Disability Expo, established in direct response to the changing landscape and funding arrangements in both the disability and the arts sectors. Sancha has always focused on achieving partnerships to ensure that artists with disability are able to maximise opportunities to work within mainstream practice. There are many examples of achievements in this area including Accessible Arts' partnership with Sydney Philharmonia Choirs in 2015 to present the first signed version of Handel's "Messiah" to Sydney audiences. Always keen to learn from the work of counterpart organisations nationally and overseas, Sancha initiated and led a visit by a group of artists with disability to "Unlimited", the arts festival that accompanied the 2012 London Paralympic Games.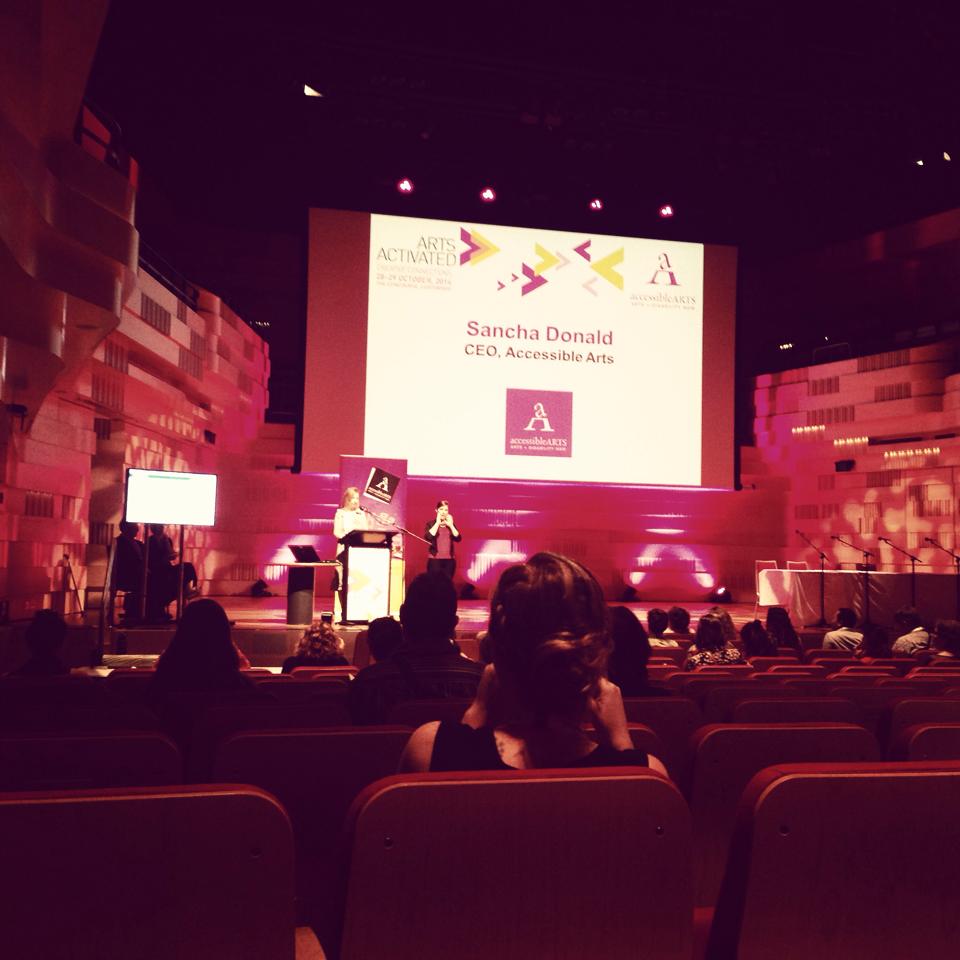 Sancha has made a major contribution to the arts and disability sector in her current role, and will be very much missed at Accessible Arts NSW as well as by all those who worked with her including TNN.
Accessible Arts are currently looking carefully at the future direction of the organisation in response to major changes to funding models, particularly in the disability sector as a result of the introduction of the National Disability Insurance Scheme (NDIS). 2017 is a critical year for the organisation to determine its future strategic direction and plans for its implementation and it has  therefore decided to defer the appointment of a permanent CEO until later in the year when that direction has been clarified.
In the interim, Morwenna Collett from the Australia Council for the Arts has been seconded to take the role of Interim CEO through this period of strategic development and change. Morwenna is currently the Manager, Project Controls and Risk, and Disability Champion, at the Australia Council. She is well known nationally in the arts and disability sector as a strategist, advocate and innovator. She is a member of arts and disability, and inclusion, committees for the City of Sydney, the Sydney Arts Managers Advisory Group, the Australian Chamber Orchestra and several other organisations. Morwenna is a published researcher, and has undertaken consultancy work internationally, including the 2015/16 evaluation of "Unlimited" a multi-million pound commissions programme for disabled artists in the UK, which she undertook in partnership with a colleague. She is also a lecturer at the University of Sydney, where she is the Unit of Study Coordinator for the Music Festivals and Arts Events Management subject. With a background in music performance, Morwenna identifies as an artist with disability.
Sancha will leave Accessible Arts at the end of February, at which time Morwenna will commence.
Best of luck to Sancha as she leaves this important role and welcome to Morwenna.