Playwriting Australia is seeking Expressions of Interest from senior and mid-career artists for the central role of Artistic Associate.
Expressions of Interest close on Tuesday 3 October 2017 and should include a brief CV and no more than 2 pages outlining your response to the key attributes, and a description of how and why you'd like to join PWA as Artistic Associate.
Some of the activities and duties you will have a key role in include:
– Reading and assessing plays submitted to Playwriting Australia's programs
– Working with playwrights dramaturgically on new works
– Playing a pivotal role in all programming, including for the National Play Festival and National Script Workshop
– Leading casting and creative team composition across our creative development programs
– Working across Playwriting Australia's planning, consultation and strategic activities
– Central role in conceiving and designing of all new programs and events.
Playwriting Australia is four years into an ambitious 20-year plan that envisions the strongest, most robust and diverse playwriting culture possible. The Artistic Associate is a key driver towards this vision, working across all of PWA's programs and planning activities, collaborating with artists, companies and communities across the country.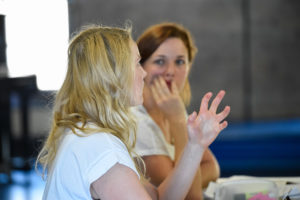 PWA are keen to hear from artists who: 
– Have a deep love of and respect for playwrights and new writing;
– Are trusted and respected by a wide network of collaborators and colleagues;
– Are highly experienced at working with playwrights of all experience levels
– Have excellent dramaturgical skills;
– Have inter-cultural and cross-cultural experience and competencies in a theatre context;
– Have a vision for the legacy of Australian playwriting into the future.
You'll be brilliant in a creative development room, insightful in conversation with artists and visionary in programming meetings. We don't expect one artist to excel at everything, however, if you also have experience or interest in mentoring and training artists and project management skills, that would be a great bonus.
If you're interested in working with PWA, please send them your proposal about how you'd like to do so and what you think your and PWA's priorities should be. It is imagined the role will be based in Sydney but PWA are open to your ideas about how you could be based elsewhere. There is also flexible about how your time might be structured, with some periods requiring full time work and travel. PWA are strongly supportive of artists' personal practice and are happy to discuss periods away from PWA to work on other projects.
First Nations people and people from culturally and linguistically diverse backgrounds are essential to the future of playwriting. PWA very much encourages and welcomes expressions of interest from people who are First Nations and/or culturally and linguistically diverse.
Please address your EOI to Tim Roseman, Artistic Director and email to michelle@pwa.org.au