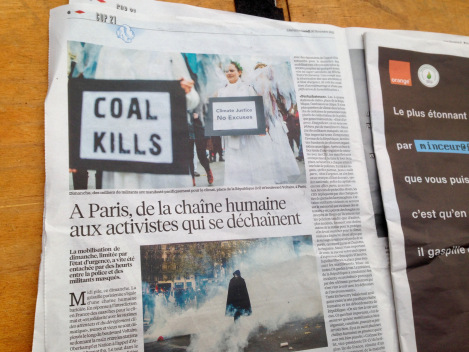 As part of building awareness around climate change and the arts, Pippa Bailey has shared her latest blog post on her experiences as a cultural activist in Bonn for the UN international climate negotiations (COP23). While raising many questions Pippa's post is also pragmatic and provides us as a diverse and busy sector with an opportunity to 'focus locally' through our own neighbourhoods and communities.
Source: A cultural activist at COP23, Bonn |
I will continue to bang on to anyone who will listen about the vital role for the creative sector in adaptation to a warmer climate, a core mission of the Paris Agreement. I'll continue to expose and explore the structures that obstruct much needed change. Artists can enable new imagination for what now seem impossible challenges, offer hope, express difficult feelings, share creative life skills and weave vital connection between silo'd strands of activity. We are courageous, flexibile, have compassion and our values are less tied to profit margins than most business or, these days, government. There is change in the air; it is happening… slowly… the only certainty is that we must urgently hurry the process. This is where art combined with activism can play a leading role.