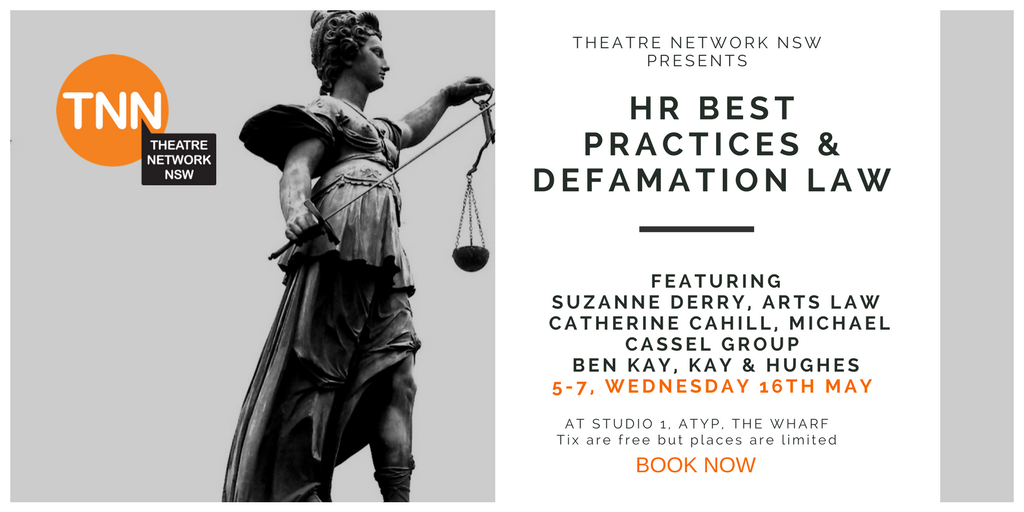 In response to feedback from our members in the wake of the #metoo movement, TNN is hosting our first 'HR Best Practices & Defamation Law Workshop'. Places are limited so please book early to ensure your place.
When: 5-7pm on Wednesday the 16th May 2018
Where: Studio 1, The Wharf, Pier 4/5 Hickson Road, Sydney, NSW
What: This event has been created to be a practical and informative tooling up session for both artists and arts workers, filling in gaps of knowledge that may have been highlighted in recent months.
Who: Chaired by Senior Solicitor of the Arts Law Centre of Australia, Suzanne Derry. Information sessions and discussion with entertainment lawyer Ben Kay (Partner, Kay and Hughes) and HR Director Catherine Cahill (Michael Cassel Group).
After presentations from both speakers, we will open up the floor to a Q&A where attendees will have the opportunity to have any further questions answered. We've also allocated some time to ensure you can connect and converse with your friends and colleagues after the event.
How much? This event is free of charge to attend, but places are strictly limited. BOOKINGS