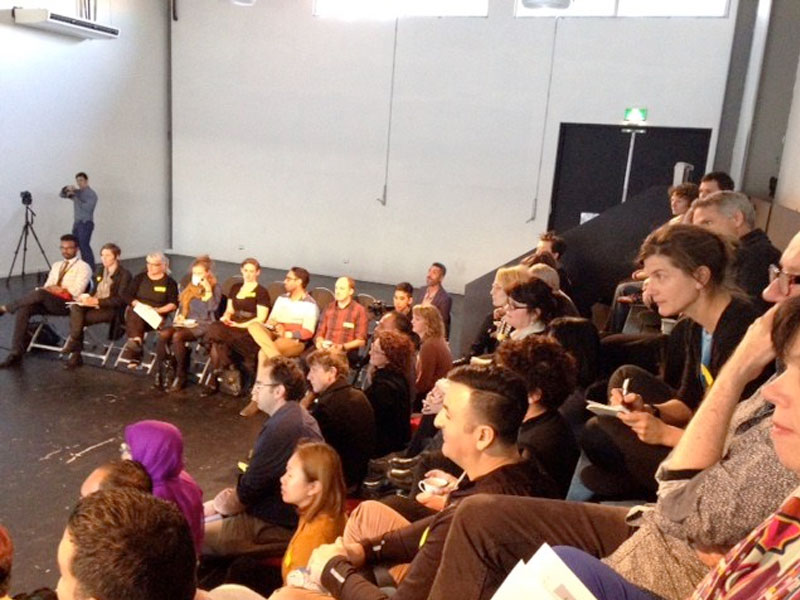 After meetings last week with Senator Mark Dreyfus, Tanya Plibersek MP, and Clare Jason MP plus additional requests for a Sydney public hearing, it seems that the NSW arts sector is being listened to. Add your voice to our latest 'Five On Friday' survey TNN Survey. This survey asks 5 very quick questions about the impact of the arts budget changes on YOU. It's the numbers and examples that are so useful in contributing to our sector's voice for some time to come. We are getting feedback that this short, sharp data collection will be really important in the days to come. Do it and share it with your family, friends, colleagues, performing pets. It takes under a minute but is a big advocacy tool.
It was also included in our September E-News (below) last Friday.
In this edition

NEW 5 ON FRIDAY SURVEY

5 quick questions on the impact the C'wealth budget changes are having on you…please complete and share.  HERE

AUDIENCE DIVERSITY UPDATES

Kristine Landon-Smith's speech notes from the Building Audience Diversity forum are now online on the TNN website to read and share.

WHAT NSW PUBLIC HEARING?

You can read all the submissions, watch for the new Sydney public hearing date to be announced, and read what went down in Melbourne, Perth, and Hobart by visiting   Australian Parliament House website  website.
hfsajgh
Whether in Singleton or Sydney there is plenty on this month to keep you connected and in the know:
Arts Upper Hunter is hosting a regional theatre forum in Singleton, NSW on the 12th September featuring Chris Bendall (Critica Stages), Amy Hardingham (Tantrum Youth Arts), Ken Longworth (Newcastle Herald), and facilitated by Jane Kreis, Theatre Network NSW.
Fourth National Indigenous Theatre Forum is taking place in Brisbane from the 17-19th of September at the Judith Wright Centre.
The Sydney Public Hearing relating to the Arts Budget Senate Enquiry (previously scheduled for the 18th September) is now on…in Adelaide. However TNN has assurances from Senator Mark Dreyfus and Jason Clare MP that they will support our request for a new hearing date.
SAMAG's next event on the 26th of September will have a Regional Festival Focus.
Congratulations to TNN Committee Secretary Viv Rosman who takes up her new role as Executive Producer and Co-CEO with Polyglot in Melbourne this week. TNN is also happy to say that Viv will stay on the TNN committee until early next year. Wanna know who else makes TNN hum? See TNN Committee members here.
Done APACA? Ready for APAM in February 2016? EOIs for APAM Booths or Advertising close on 14th September.
It's been an interesting time for national funding to say the least and many of the Australia Council's September funding rounds have just closed. The next rounds are due 1st December with the National Program for Excellence in the Arts expecting to open (with its re-drafted Guidelines) mid-late September.
Got an internet research project? auDA Foundation Grants Program closes 8th September.