Arts Front is a four year project aimed at creating a new movement in the arts and cultural sector in Australia.
If you haven't heard about Arts Front yet or haven't yet had a chance to connect with the project there is still plenty of scope for involvement.
STEERING GROUP CALL OUT FOR NEW MEMBERS
The Arts Front Steering Group is a voluntary group open to any registered Arts Front member who wants to put his or her hand up to be involved. As discussed at the recent three-day gathering at Footscray Community Arts Centre Arts Front 2030, Feral Arts are now putting the call out now to refresh the membership of the Steering Group for 2017 with people who can commit to playing a role over the next twelve months.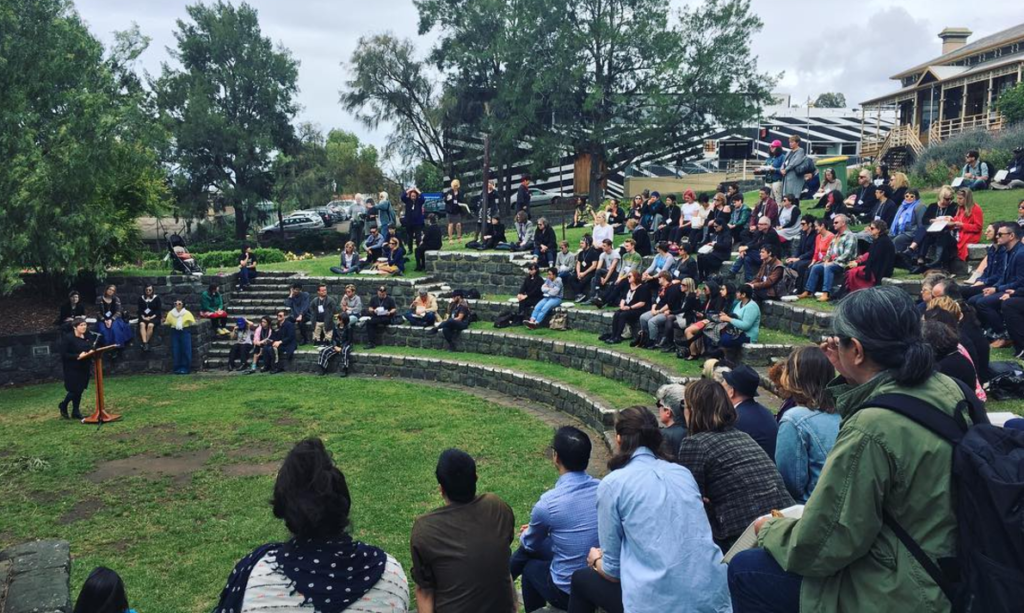 If you would like to continue in your role on the Arts Front Steering Group or would like to join the group please email Arts Front to confirm your interest on contact@artsfront.com
If you would like to join the Arts Front First Nations Steering Group please contact Peter White to nominate.
Membership of both Steering Groups for 2017 will be displayed on the Arts Front website. Members of the First Nations Steering Group are also by default members of the broader Arts Front Steering Group.
Arts Front 2030 is the beginnings of national network developed by Feral Arts and artists and arts organisations around Australia.
Here's what is planned and other ways you can be involved:
Feral Arts has secured four year organisations funding through the Australia Council and a two year × two year contract with Arts Queensland to deliver our Arts Front Program. Commencing in 2016, this investment provides resources to work in three main areas:
Campaigns – leading the strategic and active engagement of the arts sector in national watershed issues.
Connectedness – improving the level and quality of communication and sharing, both within the arts sector and other with other sectors.
Capacity Building – enhancing the capacity of the arts sector to advocate and lead.
Feral Arts will convene and support the work of the Arts Front Steering Group and provide communications support for the campaigns, working groups and projects that Arts Front decides to undertake. Feral Arts will provide ongoing development and support of the Arts Front website and a suite of custom collaborative tools to support the Arts Front work together and keep us connected – including social media. If you haven't already signed up to this website, please do!
Feral Arts will bring the work of Arts Front together through regular updates (which was the basis for this post) and will continue to explore strategic connections and partnerships both within the arts sector and more broadly. We will provide support for people organising Arts Front events in their own communities/regions. They will also work to connect artists and organisations across the country whose work contributes to shared visions for 2030.
In all, the four year program is designed to provide Arts Front the capacity to grow into an effective national network. However, there is no budget to meet the costs of delivering specific Arts Front project/campaign ideas – that will require us working together to find other ways of working and sources of support as required.
If you have any other questions about the Arts Front program and Feral Arts's role please email contact@artsfront.com.