Final Line-Up 'Building Audience Diversity'
the audience is the answer so be a part of it #TNNgetsloud
When: Thursday 14th May from 2-5pm with drinks to follow
Where: Bankstown Arts Centre, 5 Olympic Pde, Bankstown*
Limited tickets available at the door & Live streaming tickets also available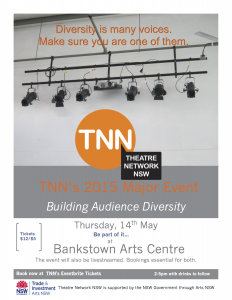 IMPORTANT*: For those who can't be there 'in person' TNN offers a live streaming ticket providing real-time participation with the event for $5. It's easy to be part of it.                                                         
*Step into the Bankstown Arts Centre's rehearsal space and join your peers for a tightly knit exploration of audience diversity and how we build it. The atmosphere is informal but the 3 hours of time together over afternoon tea, will reveal clever examples and a cohesive process for developing audience diversity.
We all have our own experiences of audience diversity but what does it take to really achieve it? TNN's guest speaker Kristine Landon-Smith, Artistic Director with UK-based 'Tamasha' theatre and NIDA Lecturer will outline the how's and why's of audience diversity from both a UK & Australian perspective.  TNN's guest facilitator, Fiona Winning, Head of Programming Sydney Festival 2015, will weave us through a truly connected conversation designed to focus on what we do well, what we need to do it, as well as some actions to take away. Special Guest 'provocateurs' for will ensure that our sector's focus on diversity is strong but your voice and experiences are just as critical to the afternoon.
Our provocateurs include:
Sonny Dallas Law (Independent & Performance Space)
Rosie Dennis (Urban Theatre Projects)
Michelle Kotevski  Riverside Theatre
Annette Shun Wah (Performance4a)
Karen Therese (Powerhouse Youth Theatre).
Theatre Network NSW (TNN) is a NSW-based organisation that works in partnership with similar organisations to lead, strengthen and support the professional theatre industry buy building capacity in the small-to-medium and independent sectors, and connection and working with the major companies.
For more information contact Jane Kreis, Director, Theatre Network NSW on 0409 814 067 or director@tnn.org.au