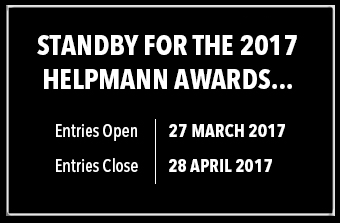 Entries for the 17th Annual Helpmann Awards are open today, for productions staged between 1 March 2016 – 28 April 2017.
The Helpmanns are Australia's premier live performance awards recognising artistic excellence through 43 awards across the following genres:
Cabaret
Comedy
Contemporary Music
Dance & Physical Theatre
Musical Theatre
Opera & Classical Music
Presentation for Children
Regional Touring
Theatre
Industry
A complete list of awards can be found on our website.
Entries, including all supporting material (photos, videos, biographies, reviews, etc.) must be submitted via the Helpmann Awards website.
Please check the eligibility criteria to ensure you are eligible to enter into the 2017 Helpmann Awards.
A step-by-step guide on how to submit an entry is available to download or feel free to contact the Helpmann Awards team on
03 8614 2000 or via e-mail.
Entries close on Friday 28 April.
(Avoid the stress and get them in early!)
The Annual Helpmann Awards ceremony feature some of Australia's most talented and celebrated performers.
Source: Helpmann Awards